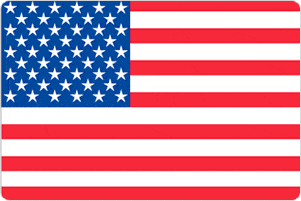 San Diego is a city that benefits from astounding natural attractions such as the beautiful Californian coast with miles of sandy beaches, magnificent mountains and lush valleys, not to mention a climate that is warm throughout the year. It is also a city that has many man-made attractions such as Mission Bay and Balboa Park that provide a wide range of entertainment options including amusement parks, museums, galleries, theaters and music venues. When you add all the other activities that the city has to offer such as sunset cruises and whale watching trips, it is easy to see why so many choose San Diego, California as the place to take their TEFL/tesol course.
Once a small backwater town living in the shadow of its more illustrious neighbors, it was the arrival of the railroad that sparked San Diego's original growth followed by its development as an important naval base. Since then, San Diego has gone on to become a thriving modern metropolis and is now one of the country's fastest growing cities due to burgeoning healthcare and biotechnology industries.
The main attraction in San Diego is probably the magnificent Balboa Park, a vast area that encompasses numerous gardens, miles of paths and walkways, dozens of museums, theaters, San Diego Zoo and a wide variety of shops, restaurants and cafes. Another major attraction is Mission Bay, the largest man-made aquatic park in the country, which is a fantastic place to spend the day with its miles of sandy beaches that wind around a number of islands and islets. This part of the city is the perfect place for learning to sail or jet-ski or simply to take a leisurely bike ride along the sandy pathways.
The historic Gaslamp Quarter is the cultural epicenter of downtown San Diego and is home to some of the city's best theaters, galleries and museums, as well as a plethora of restaurants, pubs and shops catering to all tastes and budgets. The area also plays host to many festivals and parades throughout the year including the Mardi Gras carnival and various live music and theater events. San Diego has also developed a popular craft beer scene with over 70 craft breweries operating in the area; some of which have won international recognition for their beers. Other attractions include SeaWorld San Diego and Legoland California which is just a little way up the coast.
With a fantastic coastal location, a well-equipped training center and friendly, professional training staff, you cannot go wrong by choosing San Diego as the place to earn your TEFL/TESOL certificate and to take your first steps on the road to becoming a successful English teacher.
Register now & get certified to teach english abroad!
The School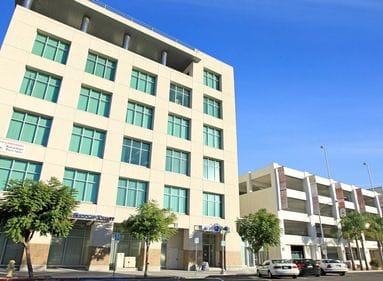 Located in a working language school, our TEFL/TESOL course in San Diego is the ideal place for earning an English teaching certificate. The school's five large, comfortable and well-equipped classrooms provide the perfect environment for studying. There are also excellent facilities on hand such as wireless internet throughout the building, a photocopier and a well-stocked resource library. For refreshment we provide tea and coffee making facilities and there is a small shop selling snacks and other items.
Situated in the downtown area of San Diego the training center is perfectly placed for visiting the city's many attractions including its numerous museums and galleries. Served by an excellent public transport network, including the San Diego Trolley system, the city and its surrounding areas are easy to reach and explore.
Our course in San Diego is held in an operating ESL school which means that trainees have the opportunity to gain invaluable classroom experience by carrying out teaching practice sessions in real classrooms with genuine English language students. Classes run from 5:30 p.m. to 10:30 p.m. Wednesday to Friday and from 9:00 p.m. to 6:00 p.m. on Saturday and Sunday. The courses are usually offered during the first week of the month.
Accommodation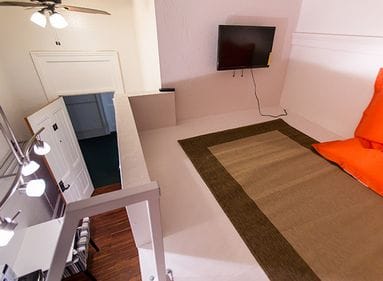 If you require accommodation during your time on our course in San Diego, we can recommend a few options that might suit your needs. One popular choice is a residence offering a variety of reasonably priced rooms within a few minutes' walk of the training center. Rooms come with good facilities that include free Wi-Fi access, TV, mini-fridge and a microwave. You can also take advantage of a shared kitchen and onsite laundry facilities. We have a second option offering similar facilities in the lively district known as Little Italy. Although slightly further away, this option is situated right in the heart of an area populated with bars, restaurants and sidewalk cafés.
Also available are a number of studio apartments situated about a 15 minute walk from the school. These well-equipped apartments include a handy kitchenette with refrigerator, microwave and all the utensils you need, as well as cable TV, air-conditioning, free Wi-Fi, and the use of a laundry room and fitness center. Our recommended accommodation is purely optional and can be confirmed once you have secured a place on the course.
Course dates

Coming soon...
We are presently in the process of establishing a new course in San Diego California and therefore there are currently no dates available for this location. We anticipate that the course should be running here within the next 6-8 months. If you would like to attend a course at this location, please let us know and we will send you full information you as soon as the course dates are finalized.
Please check out our other course locations if you wish to attend a course before this one becomes available...
Course fees
The total price is divided into: deposit and balance.
The deposit may be paid via a) credit card b) Paypal c) wire transfer d) Western Union.
The balance of the course fee must be paid by cash, PayPal or bank transfer directly to the training center on the first day of the course.
Deposit
US$ 700
to be paid in advance
+
Balance
US$ 595
to be paid on arrival
Accomodation Fees
The accommodation fees are not part of the course price and you are free to choose whichever accommodation option you prefer.
You are not obliged to use the accommodation provided by the school and you are welcome to make your own accommodation arrangements. If you choose to use our accommodation, it should be paid for either by cash, PayPal or bank transfer directly to the school at the start of the course.
per night
US$ 44
(to be paid on arrival)
To be booked directly through ITH Zoo Hostel San Diego