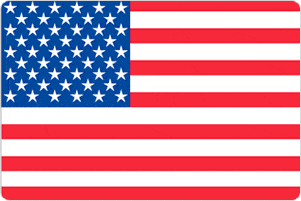 There are many reasons to choose Orange County as the place to take your TEFL/tesol course. The pleasant Mediterranean style climate, over forty miles of beautiful coastline and the convenient proximity to Los Angeles in the north and San Diego to the south are just a few. Any first-time visitor soon realizes why this collection of small well-designed cities is a great place to live, work and study.
The county was initially a sparsely populated region where cattle ranches and other farming pursuits were the main industries. However, the beginning of the 20th century saw the arrival of road and rail networks, and this link to Los Angeles put Orange County on the map as an easy weekend get-away for the new stars of the early Hollywood. Continued improvements to the road infrastructure ensured easier access to the big cities and the county grew as a commuter area for those working in new industries after World War 2. The building of Disneyland in the mid-fifties provided yet another draw for visitors from all over the world and Orange County continued to grow into the affluent and popular place it is today.
As with many regions in California, the beach is a popular pastime in Orange County for locals and visitors alike. Popular places for swimming, surfing, sunbathing or simply hanging with your friends are Huntington Beach, Newport Beach and Crystal Cove. Perhaps the most famous attraction in the county is Disneyland Park in Anaheim, with a large number of rides and shows for all the family to enjoy. Then of course there is Los Angeles to the north and San Diego to the south with all that these cities have to offer, making Orange County an excellent base for exploring the wider southern Californian region.
If you are looking to take a TEFL/TESOL course in California that benefits from being close to all the best attractions but is away from the hectic pace of the big city, then our Orange County TEFL/TESOL course is perfect for you. Our great location, quality training center and professional teacher trainers mean that you are sure to make the most of your time with us here in Orange County.
Register now & get certified to teach english abroad!
The School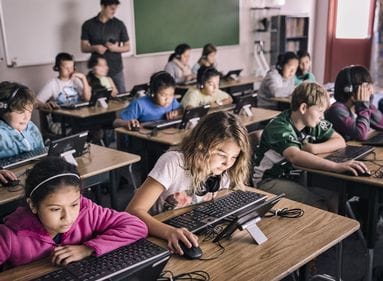 Located in the prosperous city of Irvine, our Orange County training center is a great choice for taking a TEFL/TESOL certificate course. With Los Angeles to the north and San Diego to the south we are perfectly placed for those wishing to enjoy all that the southern Californian region has to offer, without having to cope with the hectic pace of the big city.
The training center has ten classrooms fitted out with everything needed for your course. Other amenities include wireless internet throughout the building, photocopying facilities and a resource library. The school is located opposite the UC Irvine campus of the University of California, and there are a wide range of services aimed at students in the surrounding area, including shops, bars, cafes and restaurants. There is also an excellent public transport network that makes travelling around the city and further afield both easy and affordable.
Courses in Orange County usually run in the second week of the month between 5:30 p.m. and 10:30 p.m. Wednesday to Friday, while Saturday and Sunday classes are from 9:00 a.m. to 6:00 p.m. The courses are kept small at around 10 to 12 participants so that trainees benefit from all the individual support they need during the course. The course is also run out of a working ESL school so all trainees have the opportunity to put their newly learned skills to use in practice sessions with genuine English language students.
Accommodation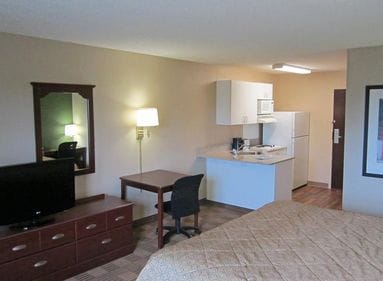 With its great location close to major attractions such as Los Angeles, Disneyland and the stunning California coastline, Orange County is a very popular destination year-round. To cater to its large number of visitors the area has a wide choice of hotels, guest houses, motels and hostels aimed at a variety of budgets. For the sake of convenience we can recommend one option that is often popular with trainees as it is located close to the training center and within easy reach of major transport hubs including John Wayne Airport.
If you choose this option you will stay in an apartment complex that has comfortable and reasonably priced rooms that include a private kitchen area. This great money saving feature comes complete with all the basic appliances such as refrigerator, stovetop, microwave and coffee maker. You also receive a complimentary breakfast, while access to Wi-Fi internet and laundry facilities is also available. Our recommended accommodation is purely optional and can be arranged once you have confirmed your place on our Orange County training course.
Course dates

Coming soon...
We are presently in the process of establishing a new course in Orange County California and therefore there are currently no dates available for this location. We anticipate that the course should be running here within the next 6-8 months. If you would like to attend a course at this location, please let us know and we will send you full information you as soon as the course dates are finalized.
Please check out our other course locations if you wish to attend a course before this one becomes available...
Course fees
The total price is divided into: deposit and balance.
The deposit may be paid via a) credit card b) Paypal c) wire transfer d) Western Union.
The balance of the course fee must be paid by cash, PayPal or bank transfer directly to the training center on the first day of the course.
Deposit
US$ 700
to be paid in advance
+
Balance
US$ 595
to be paid on arrival
Accomodation Fees
The accommodation fees are not part of the course price and you are free to choose whichever accommodation option you prefer.
You are not obliged to use the accommodation provided by the school and you are welcome to make your own accommodation arrangements. If you choose to use our accommodation, it should be paid for either by cash, PayPal or bank transfer directly to the school at the start of the course.
per night
US$ 99
(to be paid on arrival)
To be booked directly through Extended Stay America