What is TESOL?
The acronym TESOL stands for Teaching English to Speakers of Other Languages. It is a common term used when describing a range of situations where non-native speakers are taught English. You will find several other acronyms are also used in the same way, including TEFL (Teaching English as a Foreign Language), TESL (Teaching English as a Second Language), and ELT (English Language Teaching). In theory, there are some slight technical differences between these acronyms, but they are typically used interchangeably within the world of English teaching.
The worldwide demand for TESOL qualified teachers is growing at a steady rate every year as more and more students take to the English language classroom. With the help of ITTT and our wide range of internationally accredited TESOL courses, you can take advantage of this great opportunity and join thousands of other course graduates who are currently working as teachers abroad or within their home country.
Register now & get certified to teach english abroad!
The international standard qualification for teaching English to non-native speakers that is recognized by employers and teaching organizations worldwide is known as a TESOL or TEFL certificate.
Although either of these certificates are accepted by employers around the world, TESOL technically refers to teaching English in countries where English is the native language, while TEFL refers to teaching English in countries where English is not the native language.
In years gone by it was often easy to find a ESL teaching position based on nothing more than being a native English speaker. However, as employers and students now have increased expectations of their teachers, it is all but essential to possess a professional teaching qualification if you want to land a good quality teaching job in most countries.

Register now & get certified to teach english abroad!
Am I eligible to take a TESOL course?
As the worldwide demand for ESL teachers is so high there are few limitations on who can sign up for a TESOL training course. For starters, your age is unlikely to be a problem as we welcome all trainees over the age of 18. That's right, we have no upper age limit as we know that older trainees are often perfectly suited to the demands of an international classroom environment. All you really need is a sense of adventure and the desire to learn new skills and ideas.
Equally, we have no specific requirements when it comes to your previous academic background. While it is true that a university degree is needed to apply for a work permit or visa in some countries, there are many more that have no academic requirements, which is why we don't have any for our range of TESOL courses.
If you have a thirst for adventure and would like the opportunity to teach and travel, there is really nothing standing in your way of becoming TESOL certified with a top quality training course from ITTT. Thousands of people join us every year, so why not you?
Our courses are also not limited to native English speakers. Although there are a few countries where the local law prohibits schools from hiring those without a passport from certain English speaking nations, there are far more countries that have no such restrictions and a very healthy job market for TESOL qualified teachers. All you need to enrol on one of our Online TESOL Courses is a good understanding of both written and spoken English.
One other issue that some trainees think might hold them back is their lack of language knowledge of the country where they would like to live and work. Once again, there is no need to be concerned as the vast majority of our graduates end up teaching in a country where they have little or no understanding of the local language. This is made possible by the fact that our training courses are based on the communicative approach to language teaching. This common teaching methodology follows the simple rule that English is the only language used in the classroom and you will learn all about it during your chosen course.
Register now & get certified to teach english abroad!
What kind of people become ESL teachers?
As the number of ESL teachers currently working all over the world is so huge it is fair to say that they probably come from every concievable background you can imagine. There is certainly no single demographic that defines people who decide to teach English abroad.
Each trainee who takes a course with us has their own personal reasons for wanting to become an ESL teacher. The simple desire to travel and experience new cultures is certainly a common factor, regardless of age. While others might be looking to escape the 9 to 5 grind and to start a whole new career in an exciting and dynamic profession that is booming in most parts of the world.
Whatever your own reasons or your future plans, we are fully committed to providing all the help and support you need to make your dreams become a reality.

Register now & get certified to teach english abroad!
Where can I teach ESL?
One of the major attractions of gaining a TESOL certificate is that it opens up a vast number of job opportunities in all corners of the globe.

Once you have a teaching qualification under your belt you will have many options ahead of you, from volunteering in a remote location to living and working in some of the most exciting and cosmopolitan cities in the world. Whether you plan a long career in the teaching profession or just a gap year adventure, you will never be short of jobs to choose from.

Once qualified, many new teachers head off overseas to find work in regions such as Asia

Europe or South America, while for others there are plenty of opportunities to earn a good living teaching within their own country. Teaching ESL really can offer a huge variety of options to suit any individual hopes and dreams.

Register now & get certified to teach english abroad!
Before you sign up for an online TESOL certification course it is important that you ensure it is suitable for your personal plans as there are many course options to choose from.
At one end of the scale are short-format courses. While many of these are of a good quality, it is worth remembering that they are typically designed to provide an insight into the world of ESL teaching and are therefore best for trainees who plan to teach in a volunteer environment.
If your teaching plans are more long-term and you want to earn a reasonable income, a longer format course is recommended. In today's teaching market a TESOL certification of at least 100 hours duration is generally expected by most employers worldwide. In this category our 120-hour online TESOL certificate has been specifically designed to cover all the most important subjects you need to be familiar with before you start your first teaching job, such as classroom management, assessment strategies, and the ins and outs of English grammar.
The 120-hour TESOL certification course can be taken from any location in the world that has internet access. You are also free to set your own study schedule which allows you to fit your course around any existing commitments you might have. The course comes with online tutor support throughout.
For full details of our online TESOL courses, take a look at our online TESOL course page.
Standard
Course
Specifications
120-Hour
Course
With Tutor Support
and Video
Continuous Assessment
Internationally Accredited
Embossed Certificate
Letter of Recommendation
Supplementary Materials
Free Lesson Plan Access
Teaching Skills Units
Grammar Units
Phonology Units
Video Lessons
Full Tutor Support
10 Course Units
20 Course Units
Free Course
CTBE,CTEYL,CTEO
Technical Support
Job Guidance
Lifetime

US$ 340

US$ 249

more infoRegister now
Register now & get certified to teach english abroad!
After completing a standard TESOL certification course it is common for graduates to then add extra qualifications to their portfolio in order to widen their job opportunities. There are three specialized areas of ESL teaching that are particularly popular in many parts of the world and the following courses have been specifically designed to suit them:
Certificate in Teaching English to Young Learners (CTEYL)
Certificate in Teaching Business English (CTBE)
Certificate in Teaching English Online (CTEO)
Each of these specialized courses require in the region of 50 hours of study and are taken completely online. The materials covered in each course are structured to flow directly on from the subjects covered in our standard 120-hour online TESOL course.
For full details of these courses, please visit our specialized TESOL courses page.
If you want to add an advanced level certification to your portfolio, we highly recommend our 250-hour TESOL Diploma course.
Although this is a higher level course that involves a significant amount of individual research, it is still completed 100% online. By adding this qualification to your CV/resume you should find you can confidently apply for a wider range of ESL jobs, many of which are likely to offer an increased level of pay and responsibility.
For full details, please visit our TESOL Diploma course page.
Register now & get certified to teach english abroad!
Teaching English online
Of all the different options open to TESOL qualified teachers, teaching English online is probably enjoying the biggest growth in popularity right now. This growth is being fuelled by a sharp and steady increase in demand from many parts of the world where attending a real life classroom is not possible or simply too time consuming. There are many benefits to this area of language teaching as you can work from anywhere in the world and you also have more control over when and how much you work.
To cater for this rapidly expanding field of ESL teaching we have devised a course that is specifically aimed at trainees who want to work online full-time or to simply top up their income from a traditional classroom teaching job. Our specialized online teaching qualification will give you all the skills you need to work in any ESL classroom worldwide, as well as the skills that are unique to working in a virtual teaching environment. If you want to enjoy the freedom that working online can bring, check out our 170-hour TESOL certification course with online specialization.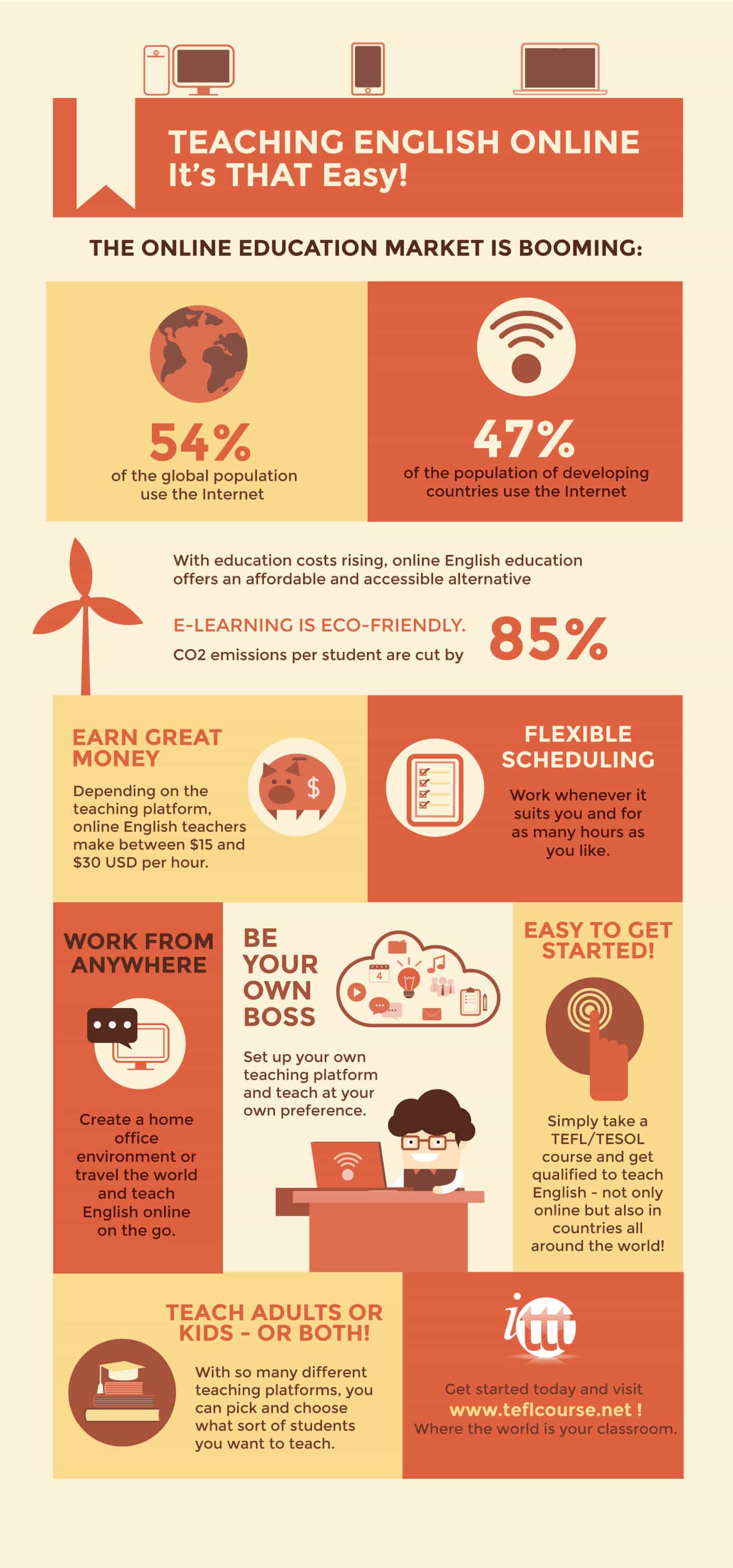 Register now & get certified to teach english abroad!
The best way to gain more than just a standard TESOL certificate is to sign up for one of our multi-course packages which offer excellent value for money. We currently have two packages to choose from:
220-hour Master Package
550-hour Expert Package
If you choose the Master Package you will get three popular training courses: the 120-hour online TESOL certification course, the 50-hour certificate in teaching business English (CTBE) and the 50-hour certificate in teaching English to young learners (CTEYL).
MASTER
Course
Specifications
220-Hour MASTER
Package


With tutor support and video

Continuous Assessment
Internationally Accredited
Embossed Certificate
Letter of Recommendation
Supplementary Materials
Free Lesson Plan Access
Teaching Skills Units
Grammar Units
Phonology Units
Video Lessons
Free course

CTEO

Full Tutor Support
Part research based
Overall 32 course units
Technical Support
Job Guidance
Lifetime
CTBE Course
CTEYL Course

US$ 699

US$ 349

more infoRegister now
For full details regarding the Master Package, please visit our online courses page.
If you choose the Expert Package you get the same three courses that are included in the Master Package, as well as the advanced level 250-hour TESOL Diploma course, the 50-hour course in teaching English online (CTEO), and an optional teaching practice component.
For full details of our Expert Package, please visit our diploma course page.
Register now & get certified to teach english abroad!
In-class TESOL course
As well as our range of online TESOL course options, we also offer courses that involve attendance at one of our international training centers. Our full in-class TESOL certification course is an intensive four-week program that provides a more practical approach to the training program. The main benefits of this course option include:
All course training sessions are led by highly qualified professionals who have years of experience as ESL teachers and teacher trainers
Plenty of invaluable teaching practice in real classrooms that teach genuine English language learners.
Practice lessons include individual feedback and constructive criticism on all aspects of the class from one of our dedicated teacher trainers.
As most of our training centers are located in teaching hotspots, most course graduates will find job opportunities within the local area
Outside of the classroom you will have time to enjoy all the attractions of your chosen destination, either on your own or with other members of your training course.
We have dozens of in-class course training centers to choose from so you should find one to suit your future plans. Crucially, many of them are located in the most popular countries for teaching English abroad, such as China, Costa Rica, France, Italy, Mexico, Spain, Thailand, and Vietnam. For full details of all our in-class TESOL course locations, take a look at the in-class TESOL course page.
Register now & get certified to teach english abroad!
Combined TESOL course
In addition to our online and in-class TESOL courses we also have a third option: the combined TESOL course. This is a popular choice with some trainees as it mixes the flexibility of online study with the practical nature of an in-class course. Part one of the course is a theory section that is completed online at any pace that suits your personal circumstances. Part two of the course takes place at one of our training centers where you will have the opportunity to practice all the skills you have learned up to that point with real language students. Once you have completed both parts of the combined course you will receive the exact same certification that is awarded for the standard in-class TESOL course.

For full details, please visit our combined TESOL course page .

Register now & get certified to teach english abroad!

Whichever route you choose towards your TESOL certification, once graduated you will be able to apply for a wide range of teaching jobs all over the world. For many people this offers the chance to jet off to exotic destinations far from home, while others choose to stay within their own country.

Asia is undoubtedly the region with the most jobs on offer, with countries such as Japan, South Korea, Taiwan, Thailand, Vietnam always looking for a large number of TESOL qualified teachers. If you want the biggest range of jobs to choose from, China has so many vacancies year-round that you will probably be spoiled for choice.

Central and South America are also popular regions due to the relatively low cost of living and their close proximity to the USA. TESOL qualified teachers from the US and elsewhere will find a good number of job options in destinations such as Argentina, Brazil, Chile, Costa Rica, and Mexico.

Despite the higher cost of living, Europe is still a dream destination for many people who want to teach English abroad. Western European countries such as France, Italy and Spain have been extremely popular for many years. However, Central and Eastern European destinations are becoming increasingly popular as they tend to provide a better balance between income and cost of living.

For teachers who have some classroom experience and the right qualifications, the Middle East region is often a popular choice. Here you will find a large number of jobs that offer some of the best salaries and benefits to be found anywhere in the TESOL world. Saudi Arabia and the United Arab Emirates both have big markets for foreign teachers, while countries such as Jordan, Oman, and Qatar are also worth considering.

For more information on TESOL Jobs around the world, take a look at our TESOL Jobs page or click on the boxes below.

You can find more information about most potential teaching destinations via our tips for teaching abroad page. Each individual country has its own page where you can find a wide range of interesting facts, tips and insight that you might find useful when planning your teaching adventure.

Register now & get certified to teach english abroad!
Why choose ITTT?
A simple online search for TESOL certification courses will quickly reveal that there are many providers out there, all offering different courses and services. With so many companies to choose from, how can you be sure that ITTT is the best choice for you? Below are just a few of the many reasons why we think ITTT offers the very best TESOL course options on the market:
1. Due to our wide range of different TESOL courses, we are confident that we have a solution to suit every situation.
2. No matter which course option you choose, you will receive the same high standard of materials, tuition and support.
3. We are happy to accept any trainee over 18 years old, providing they have a good understanding of both written and spoken English.
4. Every trainee will receive the benefit of our extensive support services, before, during and after their course.
5. Our support services include lifetime job assistance at no extra cost.
6. Our trainees can take advantage of our special offers which regularly include free additional courses and generous discounts.
7. Our great value online courses can be taken from any location in the world and at any pace you are comfortable with.
8. All our online training programs are assessed using up-to-date automated tests so there are no traditional exams to worry about.
9. Our in-class TESOL courses are available in many of the most exciting destinations around the world.
10. By choosing an in-class course you will receive the guidance and support of our professional teacher trainers and get to practice your teaching skills in an authentic classroom environment.
11. At ITTT we are affiliated to and accredited by some of the leading individuals, institutes and schools in the language teaching field.
Although we are sure that we have the best selection of TESOL courses and the best support services available, there is no need to simply take our word for it. Why not check out our TESOL certification reviews page where you will find hundreds of course graduates talking about their own TESOL journey with ITTT?
You can also take a look at the following video which features TESOL course graduates from all walks of life describing their experience of training with us. If you want to join this long list of success stories, apply for a TESOL course with ITTT today!
Register now & get certified to teach english abroad!