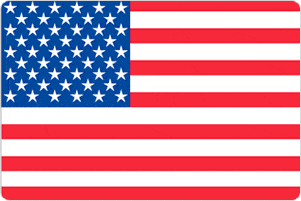 With a warm, pleasant climate and round-the clock entertainment, Las Vegas really is a city like no other. Where better to complete your training than this fantastic city in the southwestern state of Nevada, home to one of the world's most popular entertainment districts that is simply bursting with casinos, resorts, bars, theaters and nightclubs. Visitors to the city can enjoy a huge range of diverse attractions day and night, and not all of it is limited to the major casinos. Shopping is big business in Vegas, while eating out also offers endless choice, from classic American diners to world-class international cuisine. No matter what you like to do in your free time, you are sure to find it in vibrant Las Vegas.
The city's modern-day history began over 100 years ago, but it wasn't until the 1950s that the city started to become widely known as a popular tourist resort. In recent decades Vegas has done much to shake off the slightly seedy reputation it gained in its early years, and it is now widely regarded as one of the top must-see destinations in the usa. Although the gaming floors of world famous casinos such as Caesars Palace, the Mirage, and the Palazzo still dominate the city's entertainment scene, you will also find a whole range of other attractions including Broadway musicals, live music featuring global stars, and magic shows on a grand scale.
As Las Vegas is geared towards non-stop fun and entertainment, one visit is rarely enough to do the city justice. If you find that you need some respite from the casino floor you can visit one of the city's vast shopping malls that provide extraordinary themed experiences such as the cobbled streets of paris and the Grand Canal of Venice, complete with gondola rides. Free attractions such as the Fountains of Bellagio, the erupting volcano at the Mirage, and the Fall of Atlantis show at Caesars Palace are also popular ways to pass the time without breaking the bank. Whatever your budget, the 'Entertainment Capital of the World' is surely the most unique and exciting destination for anyone to complete their TEFL/TESOL training course.
Register now & get certified to teach english abroad!
The School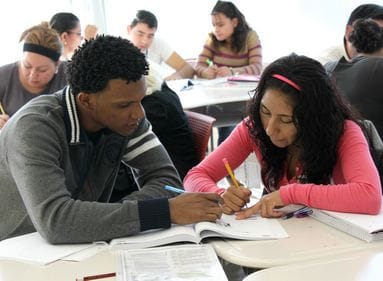 If you choose to attend our training course in Las Vegas, you will spend your class time in a modern, well-equipped facility that is ideally situated close to all the major attractions in the area. Access to public transport is near-by, so the city's major hot-spots such as the Las Vegas Strip and the Fremont Street area are within easy reach. If you are traveling to the center from outside the city, you will find that all the major transport hubs, including McCarran International Airport, are just a short journey away.
The facility itself is purpose built for language learning and is therefore an ideal environment for completing the course. The classrooms are spacious and airy whatever the time of year, and are fitted out with an array of modern teaching resources. To aid your learning and to ensure you have access to everything necessary for planning high-quality lessons, Wi-Fi is available throughout the building and photocopying facilities are readily available. During downtime you can take advantage of the various food and drink outlets in the area, as well as our own complimentary drinks station. Each course in Las Vegas is limited to a small group to aid individual learning and operates from 5:30 p.m. to 10:00 p.m. Wednesday to Friday and from 9:00 a.m. to 5:00 p.m. on Saturday and Sunday.
Accommodation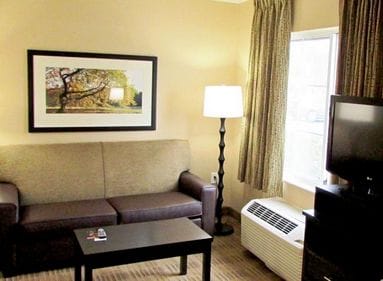 As a major international tourist destination, Las Vegas is well known for its huge resorts and hotel-casinos. All over the city you will find other less extravagant hotels, guest houses and hostels that may suit your budget during your time on our training course. Located close to the school is a complex that offers apartment-style rooms at reasonable prices, which we are happy to recommend. The complex has newly renovated rooms that feature a fully equipped, private kitchen which should allow you to reduce your overall food budget.
Each room has a refrigerator, stovetop, microwave and coffee maker, as well as dishes, cutlery and cooking utensils. Also included in the price is use of the complex's swimming pool and fitness center, as well as a complimentary breakfast. Other services are available on request including access to Wi-Fi internet and laundry facilities. Booking details will be made available once a course reservation has been completed.
Course dates

Coming soon...
We are presently in the process of establishing a new course in Las Vegas Nevada and therefore there are currently no dates available for this location. We anticipate that the course should be running here within the next 6-8 months. If you would like to attend a course at this location, please let us know and we will send you full information you as soon as the course dates are finalized.
Please check out our other course locations if you wish to attend a course before this one becomes available...
Course fees
The total price is divided into: deposit and balance.
The deposit may be paid via a) credit card b) Paypal c) wire transfer d) Western Union.
The balance of the course fee must be paid by cash, PayPal or bank transfer directly to the training center on the first day of the course.
Deposit
US$ 700
to be paid in advance
+
Balance
US$ 595
to be paid on arrival
Accomodation Fees
The accommodation fees are not part of the course price and you are free to choose whichever accommodation option you prefer.
You are not obliged to use the accommodation provided by the school and you are welcome to make your own accommodation arrangements. If you choose to use our accommodation, it should be paid for either by cash, PayPal or bank transfer directly to the school at the start of the course.
per night
US$ 69
(to be paid on arrival)
To be booked directly through motel 6