Check out our Special
Offer for this
course!
Make a deposit payment to secure your place on a course before the end of the month and qualify for a free advanced level online course. You can choose from the 50-hour young learners (CTEYL) or business English (CTBE) certificate courses or the 250-hour online diploma course.
Location / USA / Phoenix Arizona / Accommodation
Phoenix Arizona TESOL Certification Accommodation | TESOL courses USA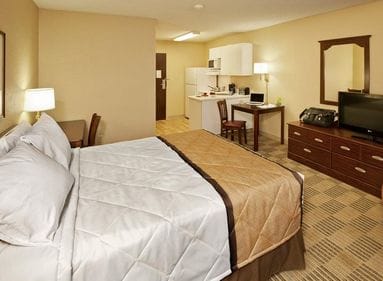 Our school's central location in the city of Phoenix means there are many accommodation options available for trainees who require it. You can opt for any style that you prefer whether it's a hotel, guest house or budget friendly hostel. If you would like some help to decide, we can recommend a complex of apartment-style rooms that are reasonably priced and well located so you will not have to travel far to reach the training center. The accommodation is also well connected to all the main points in the city, including the city airport, via reliable public transport links.
If you choose our recommended option you will stay in a comfortable and spacious room that features a private kitchen with all the essential appliances such as refrigerator, stovetop, microwave and coffee maker. The kitchen feature of this accommodation has proved to be very popular with many of our trainees as it allows you to cook for yourself and therefore save money on eating out. Inclusive in the room rate is a 'grab-and-go' breakfast, while Wi-Fi internet and laundry facilities are also available on request. Our Phoenix training center will supply all the information you need regarding accommodation once you have signed-up for one of their courses.
Apply Now!