Check out our Special
Offer for this
course!
Make a deposit payment to secure your place on a course before the end of the month and qualify for a free advanced level online course. You can choose from the 50-hour young learners (CTEYL) or business English (CTBE) certificate courses or the 250-hour online diploma course.
Location / Ban Phe / Madison Wisconsin About the school
TESOL Certification in Madison Wisconsin | TESOL USA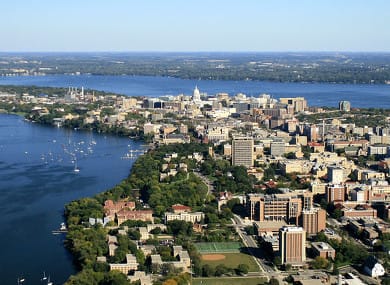 Why not come to Madison to join our TEFL/TESOL course? You will certainly not regret spending a month with us here, surrounded by natural beauty, while training to become a qualified ESL teacher. Madison is a popular destination for outdoor lovers who seek the best areas for hiking, biking and kayaking. On top of that, you will find a great selection of international cuisine right here in the city. All this is what makes Madison a great place for your TEFL/TESOL training course.
Our modernly furnished training center offers spacious classrooms, plus printing and photocopying facilities. The center is also located close to shopping malls, restaurants and entertainment facilities. During the training, our teacher trainers will be there for you with every step, guiding you towards your certification.
Classes for our TEFL/TESOL program are small in size with only up to 10 trainees per course. This way, our trainers are able to give every trainee the individual attention they require to learn and improve their knowledge and skills. In the third week of the course, trainees will also hold their own ESL lessons on Wednesday from 5:30 p.m. to 10:00 p.m. and on Saturday from 9:30 a.m. to 5:00 p.m.
Apply Now!