STARTBODY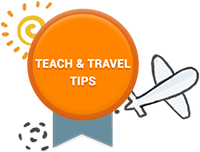 The demand for English language teaching in the UK can be divided into two categories: permanent and summer school. Permanent positions are hard to come by as every year many very experienced and qualified EFL teachers return to the UK in search of employment. This creates fierce competition for available jobs. This is perhaps surprising considering that these jobs are not usually on competitive salaries when compared to the cost of living in the UK.
Summer school work is a different story. It is estimated that there are over 800 language schools in operation during July and August catering to foreign students on intensive English language learning 'holidays'. This creates a huge number of opportunities for a qualified EFL teacher. Such positions are often well-paid and sometimes (in the case of residential schools) even come with free accommodation and meals.
Sample Jobs
1. Head of English Language at an International Summer School
The International Summer School of Scotland is one of Scotland's biggest summer programs drawing in students from around the world. We expect intake for this year will be over 300, approximately half of whom will be part of the English Language program.
We require a young, dynamic individual with a passion for teaching to join our hard-working summer team. This individual will be given the task of outlining the aims and objectives for teachers at each level (pre-intermediate, intermediate, upper-intermediate and advanced) and coming to an agreement with them as to the content of each course. In addition, the candidate will ideally be able to design and teach an advanced English course for those students who wish to particularly focus upon essay-writing and presentation techniques. Course books are provided by the school.
All candidates MUST be TESOL qualified (or equivalent), and have a minimum of 1 year's experience.
The post will run from the beginning of July to the end of August 2008, and all accommodation and food is provided.
Salary for July and August 2008 will total £1600
2. Host English Teachers Required in London area and South England
InTuition Languages is a network of qualified and experienced freelance English language teachers specialising in 'English in a Teacher's Home' courses in the UK and Ireland. On our courses a mature overseas student stays in your family home and receives one-to-one English tuition and joins in family life for, on average, a two week course. We are an affiliate of International House and the first to be British Council accredited for Home Tuition.
Teachers must have facilities to teach one-to-one in their home, as well as offer hospitality (full board in your home), and be able to offer clean and comfortable accommodation.
Teachers must be qualified EFL teachers (TESOL Certificate minimum).
Benefits
Enjoy greater flexibility by choosing when you want to accept a student.
Earn well-paid income for 1:1 tuition and offering full board accommodation.
Work in a more convenient environment, namely your own home.
Work on a freelance basis.
What's required to be a Host tutor?
We have found there are four basic ingredients for a successful teacher/host:
An enthusiasm for teaching English.
A professional qualification in teaching.
An empathetic personality.
A comfortable and hospitable home.
What's involved?
Many of our host tutors like the flexibility of working from home on a freelance basis and welcome the extra income that having students for 10 or 12 weeks a year can provide. A number teach in term-time and are free during holiday periods. Many others, often with valuable Business English teaching experience gained from working in commerce or the professions, have retired early and enjoy the new departure that our courses represent.
Working with InTuition Languages enables teachers to work on a freelance basis but still receive professional support.
Register now & get certified to teach english abroad!
---
---
ENDBODY
Register for your TEFL/TESOL Course!
1

The registration process is free and does not commit you in any way.

2

Anyone fluent in English and aged 18+ is eligible for our courses.

3

No previous experience or qualifications are required.

4

Register today and receive a free e-guide covering the basics of TEFL/TESOL.

5

All online courses are entirely flexible and self-paced. Work at your own pace in your own time!
The personal information we collect on this page will be treated in accordance with our
privacy policy
.
By submitting this form you declare to have read and agreed to the
Terms & Conditions
.