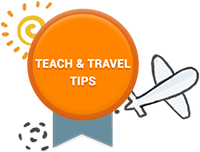 Prospects for English teachers in Poland remain probably more promising than anywhere else in Europe. There are numerous possibilities in both state and private sectors. There is also a high demand for business English in the major cities. The salaries usually allow for a relatively comfortable standard of living but if you are aiming to save money this (or anywhere else in the region) is probably not the place for you.
Sample Jobs
Job 1. Teach English in Pulawy, Poland.
Quest Language School is currently looking for a native speaker of English to teach general English to teenagers and adults in the upcoming school year.
The school is located in the centre of Poland, in a picturesque and very green town of Pulawy. The town offers a wide variety of leisure activities as well as hiking, skiing and sightseeing possibilities; and is really close to beautiful historical small towns such as Kazimierz Dolny, Janowiec, Naleczow (a famous Polish spa resort) (15 km), as well as the capital city (120 km).
Requirements:
degree and/or TESOL certificate (or equivalent)
interest in teaching
be responsible and organized
be creative and willing to learn new things
friendly personality, communicative, sociable, resourceful
an experience of living and teaching abroad is an advantage
Quest is a successful, private language school, renowned in the area for high standards and effectiveness in teaching. We run general English, German and Russian courses as well as examination courses (Cambridge exams, FCE, CAE, CPE; Goethe Institute). All of our general English courses focus predominantly on developing students' spoken language proficiency (speaking/listening skills), though, obviously, reading/writing are not to be neglected.
The offer includes:
very good local salary: 1000 Euro gross
24 teaching hours a week; 720 hours per school year
help with accommodation
on-the-job teacher training assistance
all the books and materials needed
work in nice and stimulating environment in a team of helpful, experienced and friendly teachers
highly motivated students
4 weeks of paid holiday within school year.
Job 2. English Teacher Required in Koszalin, Poland
IH Koszalin has one vacancy for the post of TESOL teacher beginning in the new academic year. This is a unique opportunity for recently qualified teachers to work in an organization with a world-wide reputation for high quality teaching and excellent teacher support.
Our main school is in Koszalin, a town of 120,000 very close to the Baltic coast, and we run satellite schools in 5 other towns nearby. Classes are mainly for adults, from absolute beginners to advanced level, although your schedule is likely to include one or two young learners classes too. The initial contract (24 contact hours per week) is for 9 months, but if your work meets our high standards, you will be given the option to renew at the end of the year.
Teacher development at IH is second to none. There is a system of regular observations throughout the year and every Friday (a non-teaching day) the Director of Studies, or a senior teacher, runs a session on some aspect of TEFL. Apart from this, there are 2 regional conferences every year to which all IH teachers are invited, and every encouragement is offered to teachers wishing to further their career through positions of responsibility and/or other qualifications.
The pay and conditions are attractive too. Apart from your salary, the school will find and pay for your accommodation (usually a flat near the school, shared with another teacher), and will also pay for all your utility bills (except for telephone and satellite TV). Free Polish lessons are offered for those interested.
Apply now & get certified to teach english abroad!
---
---