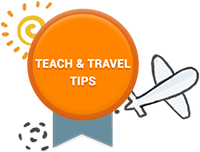 Chile has one of the stronger economies in Latin America and the growth in demand for the English language has matched the economic growth. There is a booming market for business English and an increasing demand for teachers of children. There are many private language schools, particularly in the capital, and certified EFL teachers should have little problem in finding suitable employment.
Sample Jobs 1. Teaching Positions in Chile
The Antofagasta International School is accredited by the Chilean Ministry of Education and takes in Chilean and international students desiring a curriculum in English. The school is located in Antofagasta, a port city in the far north of Chile. We are currently hiring teachers for next year.
The ideal candidate should satisfy the following requirements:
TESOL certification (or equivalent) in addition to a teaching certificate for a specialist subject is a plus.
Experience preferred.
Spanish language ability a plus, but not required.
An openness to and interest in living and working in a new culture and community.
Contract and School Terms:
Minimum of a 2 year contract.
The school year begins in March and runs until late December.
The school is run on a 13 week Trimester schedule with 2 week breaks between trimesters.
Summer vacation runs from the end of the December through mid- February.
Hours: Total per week: 40 hours, spread out between the hours of 8am and 5pm.
32 teaching hours a week, 3 meeting hours a week, 5 planning hours a week. Class sizes are no bigger than 15 children.
Salary: all salaries are in US dollars, after taxes:
0-3 years of experience: Year One $1,200 USD a month
Year Two $1,300 USD a month.
$1,200 Bonus + plane fare upon completion of contract
4-5 years of experience: Year One $1,400 USD a month
Year Two $1,500 USD a month.
$1,200 Bonus + plane fare upon completion of contract
6+ years of experience: Year One $1,500 USD a month
Year Two $1,600 USD a month.
$1,200 Bonus + plane fare upon completion of contract.
Benefits. The school will provide:
A work visa (you will enter the country on a tourist visa, and then your visa status will be changed once you sign a formal contract with the school and begin the application process for a work visa).
A health care package that covers both health and dental- coverage begins 1 month after the signing of the contract.
A room in a shared apartment with 2 to 3 other teachers. Teachers are responsible for paying their own water, electricity, gas, phone/cable and internet bills.
The return flight upon the completion of the contract.
Other Sources of Income: While most teachers find the salary is more than adequate to live on, there are many opportunities to earn extra money tutoring after school hours.
2. Business English Teachers needed immediately in Santiago, Chile
Comunicorp is a Santiago-based language consulting firm with a multi-national clientele. We are ISO 9001 certified and have openings in Santiago and in other parts of Chile.
Comunicorp is currently seeking teachers who:
are Native English speakers.
have TESOL certification, or equivalent.
have a University degree.
have a minimum of 1 year of classroom ESL experience preferably with adults.
Comunicorp offers:
above-market salary package.
work visa.
Spanish-English course exchange program.
travel stipend for getting around Santiago or for travelling outside of the city. travel bonus upon contract completion.
Apply now & get certified to teach english abroad!
---
---
Apply for your TEFL/TESOL Course!
1

The application process is free and does not commit you in any way.

2

Anyone fluent in English and aged 18+ is eligible for our courses.

3

No previous experience or qualifications are required.

4

Apply today and receive a free e-guide covering the basics of TEFL/TESOL.
The personal information we collect on this page will be treated in accordance with our
privacy policy
.
By submitting this form you declare to have read and agreed to the
Terms & Conditions
.