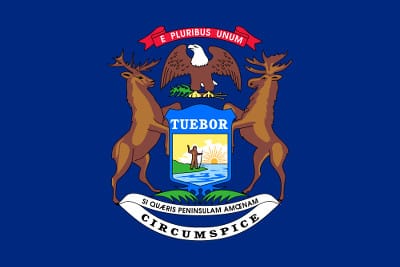 Sign up for our TEFL/TESOL program in Michigan and you will have the opportunity to spend four thrilling weeks in and exciting US state. Michigan is the only state that is made of up two separated peninsulas that border the Great Lakes. That's also a reason for the adventurous outdoor activities you can engage in in the state. Whether you like hiking, biking, horseback riding or water sports such as fishing, boating or white water rafting, you will find plenty of choices in Michigan. You can also rent various different off-road vehicles and explore the state with full speed. Whether you want to take it slow or go all out, you will find that Michigan fulfills your dreams.
In Michigan, you can choose from 97 state parks, 6 state forests, and 4 national parks. Deer, hares, and other forest animals are very frequently spotted in the many forests throughout the state. While the parks offer untouched nature and plenty of camping, hiking, and fishing opportunities, there are also a number of museums and historic museums located in the parks. That means you can indulge in history while being outdoors exploring the natural wonders of the state.
In winter, Michigan is transformed into a white wonderland. If you are into winter sports, you will find some great places to go skiing, snowboarding or even snowmobiling. There are over 6,500 trails designated for winter sports and 51 different ski areas with over 260 lifts leading to 1,00 slopes for downhill or cross-country adventures. Not only can you engage in winter sports activities on land in Michigan, but also go ice-skating or play ice hockey on over 10,00 frozen lakes in Michigan during winter.
If you are in Michigan and are looking for a relaxing urban escape, visit Mackinac Island. Here, horses replace cars and time seems to go by a little slower than in the rest of the world. The island has a lovely old town with some of the oldest homes in the state. On top of that, you will find fine local specialties at family-owned restaurants. Stay at charming bed & breakfasts or luxurious spa resorts. Whatever you prefer, you will have a wonderful time on Mackinac Island.
Detroit is the largest city in Michigan and offers a wide range of attractions. For example, Detroit's museums offer an interesting insight into various topics, such as the Detroit Institute of Arts, Detroit Historical Museum or Charles H. Wright Museum of African American History. Detroit also has a charming downtown area with lots of entertainment and shopping facilities.
Many people from around America are also drawn to Michigan for its prestigious higher education. Our training center offers the best TEFL/TESOL program in the field and our teacher trainers pass on their skills and experience from years of working experience in ESL around the world. Come and obtain your internationally recognized teaching certification in Michigan.