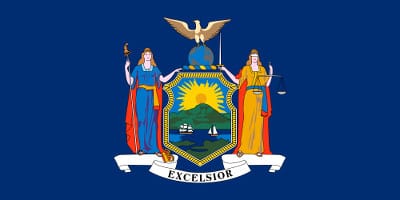 Come and join our TEFL/TESOL course in New York and spend four action-packed weeks in one of America's most exciting states. Home to abundant natural wonders and vibrant cities, "The Empire State" truly does not leave anything to be desired. Adding to that New York's long history and influence on immigration in the early 19th century when millions of people from around the world came to America in search for freedom and a better life, it's not hard to see why New York is an intriguing vacation destination.
Upstate New York offers beautiful natural scenery year-round, especially the area around Lake George and Adirondacks National Park. Whether you visit in summer, fall, winter or spring, there is always something new and different to see in the park. The main landmark of the area is Whiteface Mountain that you can explore on foot or take a convenient cable car up to the top. Whichever way you choose, you will get splendid panoramic views of the lake and national park from the top. Another outstanding location is Letchworth State Park featuring a collection of tall waterfalls reaching over 600 feet. Countless rivers are gushing through the deep gorgeous inviting adventurers to white water rafting experiences. The park also has over 60 miles of beautiful hiking and biking trails that you can also follow on horseback or snowmobile in the winter months.
The Niagara Falls are another exciting attraction located between the Canadian and American border attracting millions of international tourists per year. In fact, Niagara Falls are made up of three individual falls, Horseshoe Falls, the American Falls and the Bridal Veil Falls. The city of Buffalo is a major city near the falls and two of the Great Lakes.
Most tourists coming to the state visit New York City due to its global popularity. It's definitely a city so unique and different to anywhere else in the world and has a certain "it" factor that lures in millions of people each year. It's true that New York City is home to some of the best restaurants, shopping and entertainment facilities in the world. Times Square is the center of the city and also a world-famous destination for fun, sightseeing, and countless interesting events. The annual New Year's Eve Ball Drop in New York City is a major event that attracts millions of people from across the world who come together in "The Big Apple" for the largest countdown in the world. The most famous musical acts also take part and hold concerts during the event. However, New York City is a destination you can visit during all four seasons and you will also find exciting events you can participate in. Adding to that the iconic architecture and rich history, New York City is one of the most fascinating places in the world.
Countless people from across the globe also visit New York for its higher education options. Our training center is a great example of high-quality TEFL/TESOL courses in the region. Our experienced staff cannot wait to meet you and guide you through your exciting training. You will graduate with an internationally recognized certification and are ready to start your ESL career worldwide.